I'll start this column off with saying that to all the Oregon fans who said last season and the year prior, "I want to see the Beavers back and contending again so this rivalry doesn't get irrelevant." Well, you got your wish.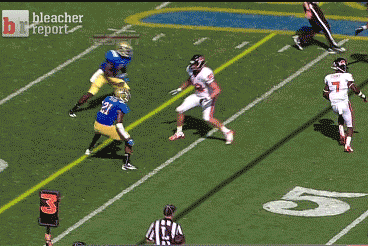 It's pretty safe to say, No. 18 OSU (2-0) is back!
And on a completely separate note, did I mention they have ninjas? Just check the image to your right. Never hurts to have that as one of your weapons.
I was skeptical after Oregon State's 10-7 win over then No. 13 Wisconsin (now, 3-1) who has looked like a completely different team from the Rose Bowl contenders of the past two seasons. I mean, a 5-point victory over Northern Iowa, a loss to OSU, and a 2-point win over UTEP is not exactly taking on murder's row.
I figured that, this time, OSU would fall back into place with a crushing loss to No. 19 UCLA. The same Bruin team that made Nebraska's defense look like a JUCO team. Could OSU's defense put another big performance against an elite level running back? They held Montee Ball, a Heisman finalist to just 61 yards on the ground. Even more impressive, they held Jonathan Franklin to just 45 yards.
This defense, while only two games played, has looked about as stout as any team in the country. Okay, maybe not as good as Alabama. But you get the point.
But it's not just the defense turning heads, how about quarterback Sean Mannion? Last season, Mannion struggled with consistency (throwing 16 TDs and 18 INTs) as a first time starter. Now, Mannion has completed 53-of-82 passes (64.6%) with three touchdowns and one pick for a QB rating of 141.4. That's third in the Pac-12 behind Taylor Kelly (ASU) and Marcus Mariota (Oregon).
Not sure if it's the skill of head coach Mike Riley, or some other more refined coaching job, but the change in Mannion's play is reminiscent of Derek Anderson from a few years back.
But, the focus of this column is about the defense. Defenses win championships! There is no way around that.
The Beaver's are looking like they have themselves a top-3 defense in the conference. Right now they're holding opponents to just 13.5 PPG, an abysmal 2.1 yards per rush attempt, and 325.5 yards per game overall. They rank 18th in PPG, 1st in rushing yards allowed and 32nd in total yards allowed.
So, the stats are there and against pretty decent competition. What's yet to be seen is if this level of productivity will stay throughout the season. Will Mannion keep his numbers positive and not collapse like last year? Only time will tell.
Their schedule, however, is not in their favor.
They avoid playing USC, and will be favorites in likely all but two of their games (Stanford and USC), but only have one really secure win left. Their most important game might be next week against Arizona in Tuscon. With the Wildcats, recently dropping out of the top-25, and ready for revenge, can OSU move to 3-0 and keep climbing the polls?
Besides Washington State and Nichols State, OSU will have a tough test in each remaining game. Arizona, BYU, Utah, Washington, ASU, and Cal are all losable and winnable games. In their 10 remaining games, two are pretty certain losses and two essentially certain wins with six bubble games. I say they lose two of the bubble games to Arizona and Washington, but win the rest. That would give them a final record of 8-4.
A record like that would keep them about where they are ranked now, and their first top-25 regular season finish since 2009. Finishing as a top-25 team after a 3-9 season proves just why Mike Riley is one of the most valuable coaches in all of college football.
So are the Beavers for real? For now, yes. Let's see how they fare against Arizona.