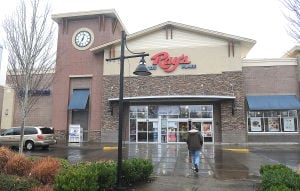 Ray's Food Place stores in North Albany and Philomath will close as a result of a Chapter 11 bankruptcy filing by parent company C&K Market Inc. of Brookings.
The Albany Ray's, 621 N.W. Hickory St., and the Philomath store at 1740 Main St., are among 16 stores in Oregon and Northern California scheduled to be sold or closed.
According to company official Grant Lunde, C&K will attempt to sell the Albany and Philomath stores and plans to close both of them by the end of the year, but he gave no specific date.
The Ray's in Philomath celebrated its grand opening on Aug. 8, 2012. It opened there in the site of the former Thriftway store, which has closured a few months before that. Thriftway had been there since the early 1980s and was on the site of the original Philomath High School, which burned down in 1956.
Citing legacy costs, an opportunity to sell or close underperforming stores and resolve debt issues, the Brookings-based C&K filed the voluntary petition Tuesday in U.S. Bankruptcy Court for the District of Oregon in Eugene.
All other C&K operations are expected to continue as normal throughout the bankruptcy process.
The C&K company's board chairman, Doug Nidiffer, said in a statement that the approach was in the best interest of the communities it serves.
At the initial hearing in a few days, a number of motions will be filed, including one that will seek approval of a debtor in possession financing facility with U.S. Bank. C&K will continue to operate in the ordinary course of business during the bankruptcy, as it reorganizes.
The closure will also affect OSU Federal Credit Union, which operates a branch within the North Albany Ray's. OSU Federal spokesman Mike Corwin said that the company is moving to provide a viable short-term solution for its customers.
"We plan to keep providing uninterrupted service to our members," Corwin said. "We are speaking with North Albany Village management to see if other possible sites within the village are available."
OSU Federal holds a lease with Ray's through 2016. Corwin said that the credit union has purchased a parcel of land in North Albany Village, with plans to erect a building.
"Obviously we will step up those design and building plans considering the news about Ray's," Corwin said.
C&K anticipates that about 20 percent of its work force will be laid off as a result of closing stores and restructuring on the corporate side.
"The positive news is that we will put our energies into the remaining stores and intend to emerge from bankruptcy as a stronger, leaner company," said Gregory L. Sandeno, company president.
On its website, C&K said that the closures are a result of increased competition from larger grocers and mega-stores and more people shopping in those stores, causing a decline in sales.
The company also said it would assist its employees at the affected stores in finding other jobs.
The North Albany Ray's, which opened in 2006, employs 42 people.
Along with Ray's stores, C&K Market operates Shop Mart, C&K Markets, and LoBuck$.
More information can be found at www.ckmarket.com.