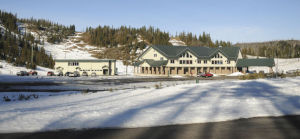 Oregon snowpack still just 32 percent of normal
SANTIAM PASS — Usually 3 inches of new snow at Hoodoo Ski Area doesn't isn't big news, but it's enough new snow to open the popular recreation site for the first time this ski season, several weeks later than normal.
The long-awaited opening day will be Friday, according to Hoodoo's website, www.hoodoo.com.
A note posted on the website Monday said the resort "received 3 inches of snow Saturday and Sunday which allowed us to harvest snow and place it in the areas needed, which was necessary to open."
Snow level Monday afternoon was about 26 inches.
The posting continued, "We are working hard to pull more snow off the parking lot and out of the trees to get extra coverage at the top of Ed chair to allow for more skiable area. Hoodoo will offer night skiing this Friday and Saturday with lift ticket prices being announced Thursday afternoon."
The resort plans to be open Friday through Sunday this weekend and then offer a Thursday through Sunday schedule until the end of the ski season, or "until a lot more snow comes."
According to the web post, there should be about 10 weeks left in the ski season.
Last week, the resort announced that season pass holders will be able to roll their passes into the 2014-15 season.
Hoodoo, like most other state ski areas, is suffering from a lack of normal snowfall. Some seasons, Hoodoo has opened as early as November.
According to a web posting by general manager Matthew McFarland, a recent storm brought more rain than snow, washing away snow the staff had been mining from deeper areas on the mountain.
"It's quite depressing, really," he wrote. "We were first told to expect 3-5 inches, then 8-14 inches and then 4-6 inches. We figured we would at least get a few inches to help out."
After initial rain, there was about 3 inches of new snow, which McFarland said was nice, but "other than flocking the trees, the snow did little to help us with our plan to open."
As of Monday, Hoodoo has about 26 inches of snowpack and has received about 86 inches of snow for the season.
Hoodoo is in its 76th year. Average yearly attendance since 2006 has been more than 72,000 skiers and snowboarders.
Mount Hood ski area is operating pretty much as usual, with about 57 inches of base snow.
Lifts are operating froim 9 a.m. to 4 p.m. daily at Mount Bachelor near Bend, where the snow base is about 72 inches and the total snowfall ranges from 126 to 154 inches.
Willamette Pass Ski Resort is operating Wednesday through Sunday with snow ranging from 24 to 38 inches deep.
There's only a trace of snow at the Mount Ashland ski area in southern Oregon.
According to the Natural Resources Conservation Service, the average snowpack for all reporting sites in the state is about 32 percent of normal. The Santiam Junction area near Hoodoo has received less than 50 percent of the normal snowfall, which could mean lower snowmelt to feed area streams and rivers in the coming summer months.