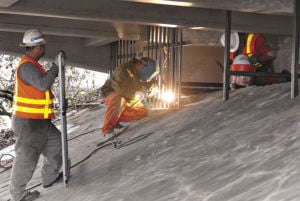 Workers install fencing under Pacific Boulevard overpass to deter illegal campers
Workers from the Oregon Department of Transportation were in Albany this week putting the finishing touches on the third and final phase of a project to keep illegal campers from accessing areas under city bridges.
The ODOT crew was installing one-inch steel fencing underneath the Pacific Boulevard overpass that crosses above S.W. Ninth Ave. According to ODOT spokesman Joe Squires, it is the third such fence installed in the city.
"It's been an ongoing project in a program to protect the areas under the bridges," Squires said. "The rubbish and debris generates a lot of complaints from the public."
Campers have been sleeping in the recesses that back up to the underside of the overpass and other Albany bridges. They leave garbage, human waste and drug debris according to Squires, who said the fencing project has been continuing for more than a year.
The Pacific overpass fence spans the entire length underneath the road. The fencing is fixed to the road on one end and floats on the other and secured with deep footings.
Squires said the Pacific fence was one of the toughest to install because of the numbers of people who frequent the area. The amount of debris was greater than most areas.
The crews spread lime on the incline under the bridge to improve visibility and disinfect the area.
Prior to the Pacific fence, ODOT installed fencing beneath the bridge on both sides of the I-5 at exit 233. Squires said campers had actually been tunneling under the footing to create more room.
"They moved some very large stones and it created a potentially dangerous situation there," Squires said.
A second fence was put up at the railroad bridge north of the current fencing site on Pacific. Squires said that site isn't very visible to the public but the same problems exist.
Squires said ODOT works with local law enforcement, public works and agencies that work with the homeless prior to installation of the fencing. The area was posted with notification of the work several weeks ahead of the project.
Footings were installed a week before work began. The fencing is designed to blend in with its surroundings.
"We notify everyone at least 20 days prior to the installation," Squires said. "It's important that the local agencies know about and perhaps can work with the people affected."
Any personal effects discovered at the work site will be held on to by ODOT for those seeking to claim items.
Squires said there are no other ODOT fencing projects scheduled for Albany. The installation under the Pacific overpass was expected to be completed sometime in the next two weeks.