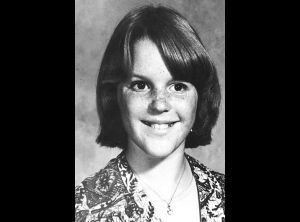 It's been more than 36 years since 12-year-old Ann Ellingwood went missing April 15, 1978, during a charity walk-a-thon, never to be seen again.
But on April 18, retired Salem Police Sgt. James "J.R." Miller met with Ann's parents and with the parents of Stephanie Newsom, 11, who went missing four days later in West Salem. Stephanie's body was found eight days after that, near the Ankeny Hill Wildlife Refuge.
Monday, Salem police announced that Miller had been conducting a cold case investigation since November and had found new witness evidence that the man who committed suicide in June 1978, as he was under subpoena to testify about his possible involvement, indeed had been responsible.
That man was Earl "Woody" Chambers, a 42-year-old roofer who had done prison time for raping young girls . He'd done some construction in the Timberhill area that spring and several witnesses reported seeing his truck in the vicinity of Pioneer Park, where Ann last was seen. She'd lagged her friends due to a sore foot.
About that same time and place, a man in a maroon Ford pickup with a small white camp trailer approached another girl on the walk-a-thon and asked her to watch his small dog. The man then opened the door to the trailer and told the girl to put the dog in the trailer. But she didn't get in herself; she sort of tossed the dog in the trailer and walked away.
Witnesses reported that moments later, they saw a girl matching Ann Ellinwood's description talking with a man with a small dog next to the maroon pickup and camp trailer. They overheard the man telling the girl he was the chief of police. Within minutes the girl, the man, and the pickup with trailer were gone — and so forever was Ann Marie Ellinwood.
A similar vehicle was seen in the vicinity of Stephanie Newsom shortly before she disappeared from West Salem, four days later, as she was delivering advertising circulars.
Two days after that, the public had a description of the man and the vehicle. The description matched Chambers, who then had long strawberry blonde hair and a thick mustache. But not for long. As police began investigating his actions around the time of the disappearances, he shaved his face, cut his hair and dyed it black.
The young woman who'd put the dog into the trailer on the walk-a-thon was shown a photo of the clean-shaven version of Chambers — and she didn't recognize him.
That changed after Miller began looking into the case, Lt. Steve Birr of the Salem Police Department's criminal investigations section said Monday.
"They'd shown her (the unnamed witness) a lot of photos of sex offenders at the time, and they were similarly "mug shot-y"-looking pictures." Birr said. "She was just never shown the one with his long hair. You wouldn't even recognize the same person. She just figured they were different people. So when JR contacted her and said I'd like to send her photos, she jumped right away and said it was him (the man with the dog)."
While Birr said this should close the case for the Corvallis police, Capt. Dave Henslee of the CPD said it might solve who did it more decisively, but it will not be closed.
"Until she's found, we will work it actively," he said Monday.
Last month, for instance, based on a tip that Chambers spent some time at a property owned by one of his employers, police — including investigators from Corvallis — dug up an old well in Polk County after receiving a tip that Chambers had stayed there for a time in the spring of 1978. No remains were found.
Ann's parents, Don and Susan Ellinwood, after having endured the media spotlight for so long, long ago stopped responding to media requests for interviews, as reported in a 2009 article about the case. They did not return calls Monday.
Birr said that the inquiry also has discovered another possible missed opportunity to have positively linked Chambers to the cases in June 1978, when then-embattled Marion County District Attorney Gary Gortmaker announced that two Salem attorneys were seeking permission from a judge to disclose information from a former client who had recently died.
Gortmaker — who later was disbarred on unrelated corruption charges — announced that the information would result in him convening a Marion County Grand Jury into the disappearances of the two girls.
But that never happened.
One of the attorneys who had sought legal permission in 1978 to tell what he knew recently told Miller that because of what Chambers told him, he knew that his client had been responsible for Ellinwood's disappearance. Unfortunately, that information apparently did not extend to where her body might be found.