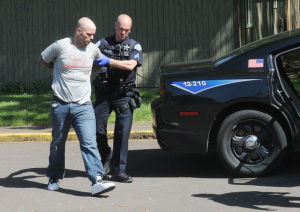 Albany police have one man in custody following a chase this morning near Linn-Benton Community College.
Michael Paul Scoggins, 36, was taken down by Taser and arrested on outstanding warrants for failure to appear on a charge of possession of methamphetamine and failure to appear on two counts of first-degree theft.
Scoggins was also wanted on warrants for first-degree robbery, unlawful use of a vehicle, menacing and felon in possession of a weapon. The charges match the ones Scoggins faced in a February indictment linked to a 2013 robbery, but it was not immediately clear whether this was the same case.
Capt. Eric Carter said Scoggins also was charged with eluding in a vehicle, eluding on foot and reckless driving in connection with this morning's incident.
"There may be some charges later related to narcotics-related offenses," he said.
Carter said officers had been looking for Scoggins and received a tip he'd be in a certain area today. 
They caught up with him about 10:15 a.m. in the 1000 block of Queen Avenue S.W., but he drove away in a Dodge Caravan. Officers followed the caravan from Queen to Pacific and south to Belmont, where he traveled through several neighborhoods before coming back out onto Pacific. Speeds briefly reached about 80 mph, Carter said.
The chase ended shortly before 10:30 a.m., when Scoggins pulled the Dodge up over a curb at the corner of College Park and Jonna Court and fled on foot. 
Officers caught up with him a short distance away and deployed a Taser. 
He is lodged in the Linn County Jail.