Small Batch Cannabis Coconut Oil
Here's how I make a small batch of cannabis coconut oil.  This small amount of cannabis oil can then be placed into capsules or used in a single serving edibles recipe.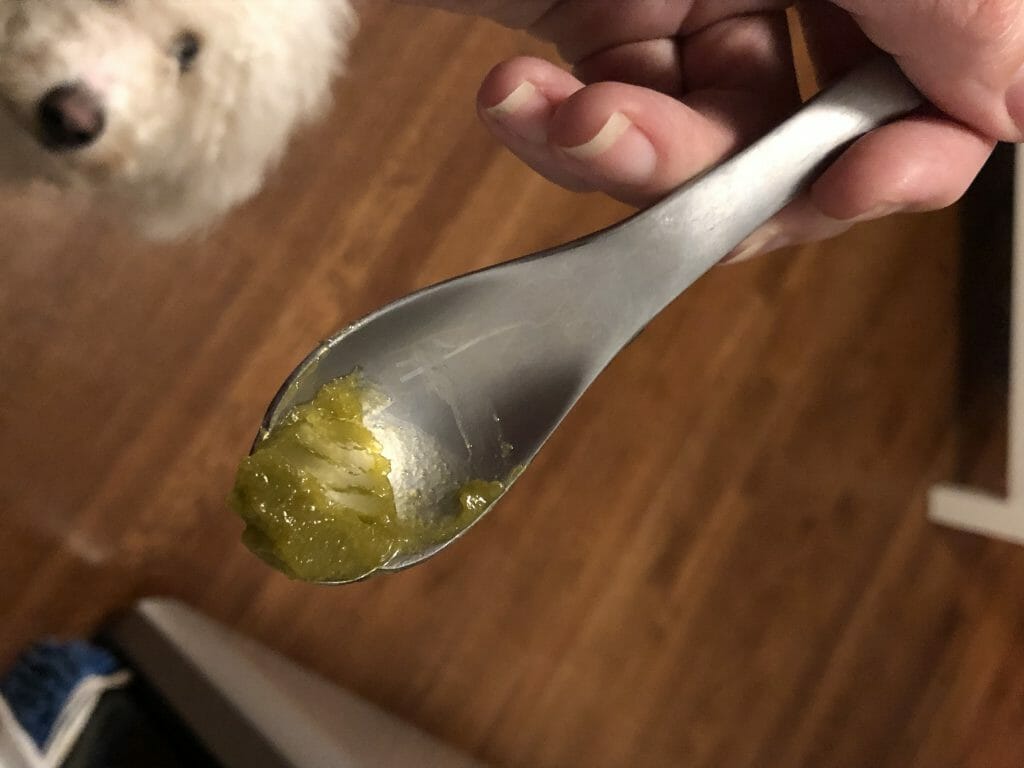 Cannabis Infused Oil – Small Batch – Crockpot Method
5 grams ground decarboxylated cannabis (25% THC)
¼ cup coconut oil
2 teaspoons sunflower lecithin
(The smallest amount of cannabis coconut oil that I've made is by cutting this recipe in half and using 2.5 ounces of cannabis, 1/8 cup of coconut oil, and one teaspoon of lecithin.)
Tools to Make Cannabis Coconut Oil
Why You Need to Decarboxylate Your Cannabis
You MUST decarboxylate your cannabis by heating it. If you use an oven, your house WILL smell!
Decarboxylation converts the inactive forms of the cannabinoids, for example, THCA, into the active form, for example, THC.
Perfect decarboxylation is a complex process. Perfect decarboxylation with significantly enhance the potency of your edibles. The  Ardent Lift is a remarkable device that decarbs cannabis perfectly every time.  One of the other amazing things about the Ardent Lift is it significantly reduces the smell of the cannabis.
But if it's your first time cooking, the old-fashioned oven method will work perfectly fine. One thing to keep in mind when cooking cannabis is to keep an eye on the temperature.
If you cook cannabis at too high a temperature, it will damage your cannabinoids. I highly recommend you calibrate your oven with a cheap oven thermometer like this one.
Instructions to Make Small Batch Cannabis in a Crockpot
Step 1. Decarboxylate Cannabis
Place the ground herb/cannabis flower in dish or foil. Bake at 240-250 for 40 minutes (I use this oven thermometer to ensure I'm decarbing at the ideal temperature.)
Step 2. Combine Ingredients In Crockpot
Combine the ground decarbed cannabis, coconut oil, and sunflower lecithin in the crockpot.
I use this tiny warmer crockpot. It operates at low temperatures, this is ideal because you do not want cannabis oil to heat above 200 degrees. I use this digital thermometer to watch the temperature.
Step 3. Cook & Stir Often (Keep under 200 degrees)
Cook contents 4-8 hours in the crockpot on warm. Stir occasionally. The ideal oil temperature is between 180-200 degrees. (I use this inexpensive digital thermometer to monitor the temperature of my oil.)
Step 4. Strain
Use cheesecloth or a mesh strainer to separate the plant material from the oil
Step 5. Enjoy Responsibly and Lable Your Meds
You can use the infused oil to make small batch edibles, eat on its own, or fill capsules.
Please label your medication and enjoy your infused cannabis oil responsibly.
For more click to continue on to https://www.marijuanamommy.com