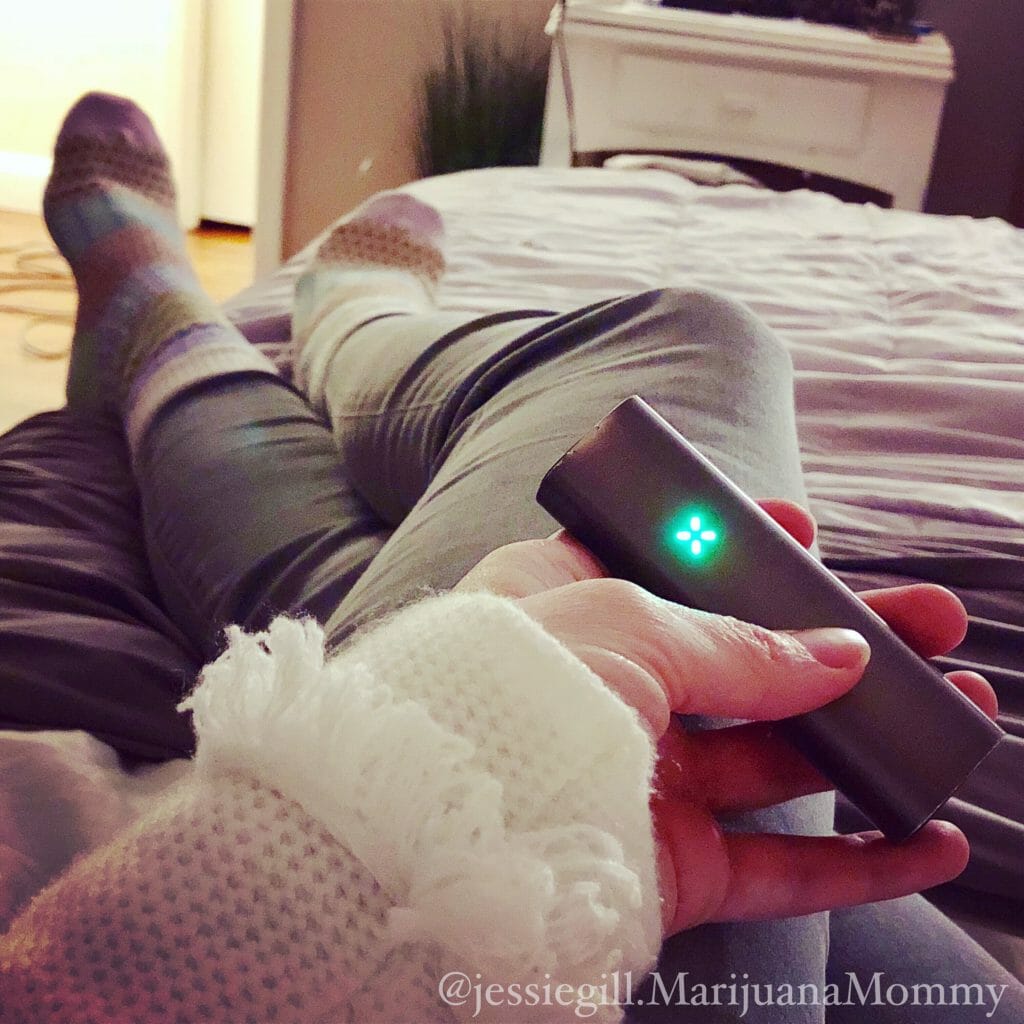 So you're thinking about using a vaporizer for dry herb? Vaping dry herb is my preferred method of consumption.
To start, hare some basics about vaporizers, after that, we'll get into the best dry herb vapes in every category and price range.
Vaping Dry Herb vs Vaping Wax vs Oil
There are a variety of types of vaporizers depending on what material you plan to consume.
There are vapes for dry herb, vapes for wax (a type of concentrate), and vapes for oil (another type of concentrate). There are also hybrid vapes that can be used for a combination of dry herb and concentrates. For the purpose of this article, we're focusing on dry herb vapes (and some of these also happen to be hybrids).
Portable Vapes vs Non-Portable Vapes
If you plan to carry your vape with you to use at your own convenience, then you must be sure to choose a PORTABLE dry herb vape. Portable dry herb vapes are always handheld and operate via a battery (they must be charged). They come in a wide range of prices with different features and designs. With vaporizers, you generally get what you pay for.
The other alternative is non-portable vaporizers. Non-portable vapes can be tabletop, like the world-famous Volcano Vaporizer, or they can be handheld, like The Plenty. Non-portable vapes tend to be the most powerful and efficient, however, they cannot be tossed in your bag or pocket. Instead, they need to be packed up to travel. Non-portable vapes do not use batteries and require access to electricity to operate them.
Conduction Vaporizers vs Convection Vaporizers
Different dry herb vapes, use different heating methods. SOme use conduction, some use convection, and some are a hybrid.
Conduction means the heat sources comes into direct contact with the herb (depending on the temperature, this can produce combustion or burn the herb.
Convection means hot air is passed through the chamber and over the herb and that the herb does not come into contact with the heat source.
You'll hear a lot of vaporizers proclaim they are full convection vapes. This is not always the case. Because of the small size of portable vaporizers, it's nearly impossible to completely avoid conduction heating (and therefore potential burning of herb). If you want a true convection experience, invest in a Volcano.
How Do You Operate a Dry Herb Vaporizer?
Most vaporizers are relatively easy to operate. Each device differs slightly, but the general procedure is the same. If you can't figure it out how to work your device, turn to YouTube, where you'll find a plethora of videos with clear explanations on how to operate and clean every device out there.
Here are basic instructions on how to use a portable dry herb vaporizer. The procedure for the Volcano vape is a little different.
Grind up your herb
Fill the chamber with herb
Select your temperature
Heat up your vape
Inhale through the mouthpiece
Feel better
Now that you know a little about vapes, let's review the best dry herb vapes in every price range and category.
Best Dry Herb Vapes In Every Price Range & Category
1. The Mighty Vaporizer: Best Overall Dry Herb Vape
The Mighty is the highest-quality portable vape made by the legendary company, Storz and Bickel. This is the best dry herb vape on the market.
The Mighty features unparalleled temperature control with a hybrid heating system, utilizing a combination of conduction and convection heating. It's very simple to use with large buttons and an easy-to-read digital screen. This vape also includes access to an optional Bluetooth app for those looking for a more complex and customizable vaping experience. The Mighty is consistently rated as one of the best portable dry herb vaporizers available.
It retails for $349.00.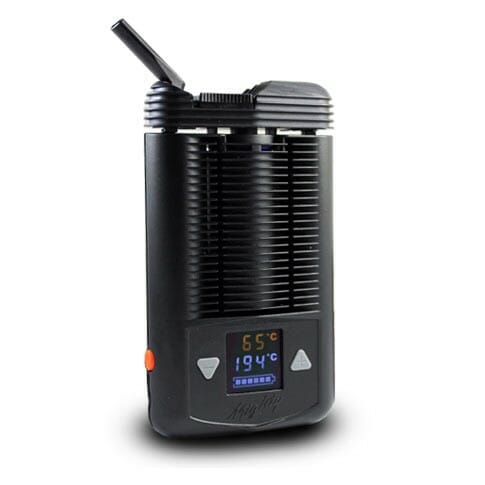 If you want something slightly smaller and don't mind a shorter battery life, check out The Mighty's baby brother, The Crafty. It retails for $279.00 . It's very similar to The Mighty, and is all sorts of amazing.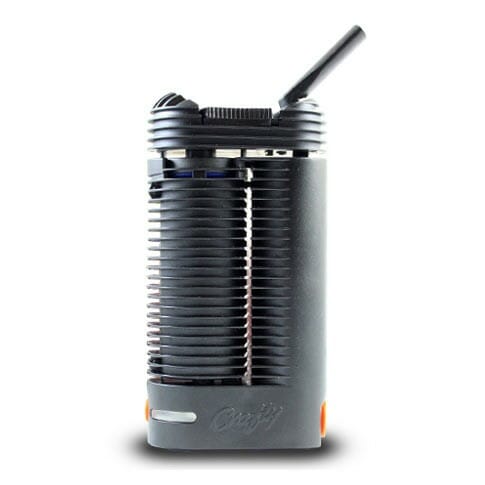 2. *Pax 3 Dry Herb & Concentrates Vaporizer: Most Discreet Vape
The Pax 3 is MY favorite vape. The Pax 3 is a solid reliable portable vaporizer with excellent reviews and it's also ultra discreet. It slips easily in my pocket or bag and comes in an assortment of colors.
The Pax 3 is capable of vaping both dry herb and concentrates. If you only plan to use your vape with dry herb, you only need the basic kit. If you plan to use your Pax 3 for concentrates also, you'll need the Pax 3 complete kit. The Pax 3 is a conduction/convection hybrid vape and includes an impressive 10-year warranty (I've used my warranty several times).
The Pax 3 Complete Kit retails for $249.99.
The Pax 3 Basic Kit retails for $199.99.
3. The Pulsar Flow Dry Herb Vaporizer: Best Vape Under $100
The Pulsar Flow is an affordable dry herb vaporizer with consistently high reviews. This device is a portable convection vape with a unique cooling path designed to filter and cool the vapor before it reaches your mouth. It's also moderately priced at $99.00 making it the best dry herb vape under $100.00. The Pulsar Flow is also very easy to clean.
One of the downfalls of the less expensive dry herb vaporizers is that they are usually convection vapes, which means they can burn the herb if you don't pay attention to the temperatures. They also don't contain the smell of cannabis as well as higher quality vapes do. If you toss the Pulsar Flow into your bag, your bag will smell significantly like cannabis.
the Pulsar Flow Dry Herb Vape retails for $99.00.
4. The Yocan Evolve D Vaporizer: Best Inexpensive Starter Vape
If you're looking for something really inexpensive to give vaping a try, the Yocan Evolve D is a wise purchase. It's constructed of high-quality materials and features a dual-coil atomizer. It's compact but also solid making this the best cheap vape for dry herb.
Some reviewers report the Yocan Evolve D functions more like an electric pipe than a true vaporizer. Depending on the temperature setting, it will burn your herb. With vapes, you get what you pay for.
The Yocan Evolve D Dry Herb Vaporizer retails for just $34.99.
Buy Now
5. The Plenty Handheld: Best Handheld Vape (NOT Portable)
The Plenty is a unique handheld vaporizer for dry herb. The Plenty is not a portable device–it needs to be boxed for travel and needs to be plugged into an outlet to use. It's not a tabletop vaporizer, it is lightweight and handheld.
The most unique feature of the Plenty is the stainless steel cooling coil the vapor passes through to reach your mouth– it's really effective. The Plenty is capable of vaping both dry herb and wax.
The Plenty has received a lengthy list of five-star reviews and its design features a traditional analog temperature gauge. It comes with a 3-year warranty.
The Plenty retails for $249.00.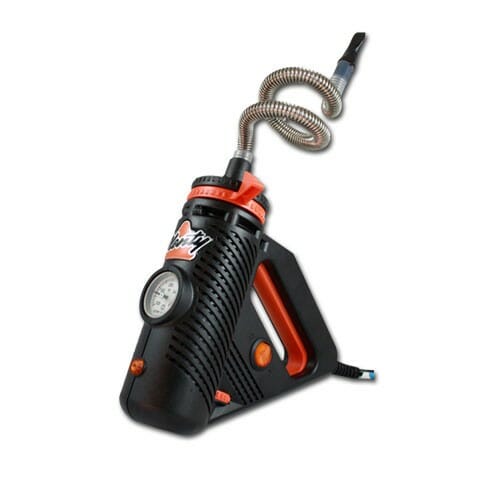 6. The Volcano Dry Herb Vaporizer: Best Tabletop Dry Herb Vape
The Volcano is a legendary device. It is the most powerful and efficient vape on the market. Its tabletop design means it is not a handheld and it does require access to an electric outlet to operate. The Volcano is the absolute best dry herb vaporizer on the market.
The Volcano is a true convection vape meaning it does not burn the material. The medicated vapor is transferred to a bag where it cools before the user inhales from the bag. The Volcano Vaporizer is the ideal device for asthmatics and those with respiratory issues.
The Digital Volcano Dry Herb Vape retails for $599.00.
The Classic Volcano Dry Herb Vape retails for $479.00.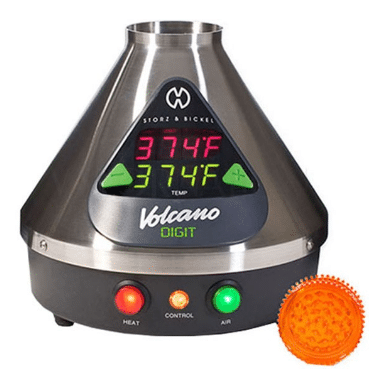 7. The G-Pen Pro Dry Herb Vaporizer: The Easiest Dry Herb Vape to Operate
If you need a dry herb vaporizer that's deliciously easy to operate, the G-Pen Pro is your best choice. This portable dry herb vape is sleek and compact, more importantly, it features a one-button control that is simple to operate.
The G Pen Pro Dry Herb Vaporizer retails for $89.00. At this price point, I prefer the Pulsar Flow over the G Pen Pro, but some enjoy the classic simplicity of the G Pen Pro.
Buy Now
After you find your perfect dry herb vape, make sure you read our 9 Tips for Your First Time Vaping.
For more click to continue on to https://www.marijuanamommy.com