Sponsored Post: Please enjoy this post sponsored by our partners at Pure Relief. 
Why CBD Aids Smoking Cessation
Quitting smoking is HARD. I know, because I used to be a cigarette smoker. I quit (for good) over a decade ago when my father had a heart attack. I was successful, but even with that personal motivation it wasn't easy, I wish I'd known then how much CBD can help stop cravings and relieve the symptoms of withdrawal.
Quitting smoking is notoriously difficult, it takes willpower and dedication. Fortunately, there are tools that can make quitting cigarettes easier. CBD is a remarkable tool that fights cigarette addiction in a few different ways.
Cannabis Fights Addiction
There's ample evidence to demonstrate that cannabinoids help fight addiction. It's not just anecdotal evidence. Multiple studies have shown that CBD and cannabis-based products can help fight opiate addiction, alcohol addiction, tobacco addiction and more.
Adding CBD products (like this vape pen from Pure Relief), may help reduce cravings and make a person more successful in their attempt to quit smoking cigarettes.
Here's why cannabis helps fight addiction.
The Endocannabinoid System Plays a Role in Addiction
The endocannabinoid system is a biochemical communication system in every animal. It's responsible for maintaining homeostasis of the body.
Studies indicate that the endocannabinoid system plays a role in addiction. This leads researchers to believe that modulating the endocannabinoid system, or adding cannabis and/or CBD, can reduce addictive behaviors. Several research studies support this.
The Research:
A randomized, double-blind placebo controlled study conducted in London found that adding a CBD inhaler reduced cigarette consumption by 40%.
A 2018 study showed adding a CBD reduced attentional bias. Attentional bias is responsible for the obsessive thoughts that occur with addiction. Attentional bias often predicts how successful a person will be when they quit smoking. A 2010 study demonstrated the same results.
A 2016 study shows that cannabis can be a successful replacement for cigarettes helping people to quit smoking.
Cannabis also helps relieve the physical symptoms of cigarette withdrawal.
Cannabis Fights Withdrawal
What happens when you quit smoking cigarettes?
After a person stops smoking, nicotine leaves the body and the person begins to go into physiological with withdrawal.
During withdrawal, a person experiences a list of troubling symptoms. Depending on the severity of the addiction, withdrawal symptoms from quitting cigarette smoking can be disabling and disruptive.
An attempt to eliminate these symptoms is often why a person begins smoking tobacco again. It can take over a month for the symptoms of nicotine withdrawal to subside.
Adding CBD products, like this Palmwoods Palm Leaf CBD blunt from Pure Relief, may help relieve some of these symptoms.
Cannabis Can Relieve Symptoms of Tobacco Withdrawal
Anxiety
Restlessness
Irritability & Mood Swings
Headaches
Difficulty Sleeping
Gastrointestinal Upset
Tremors
Excessive Sweating
Cannabis and CBD can help lessen and relieve many of these symptoms.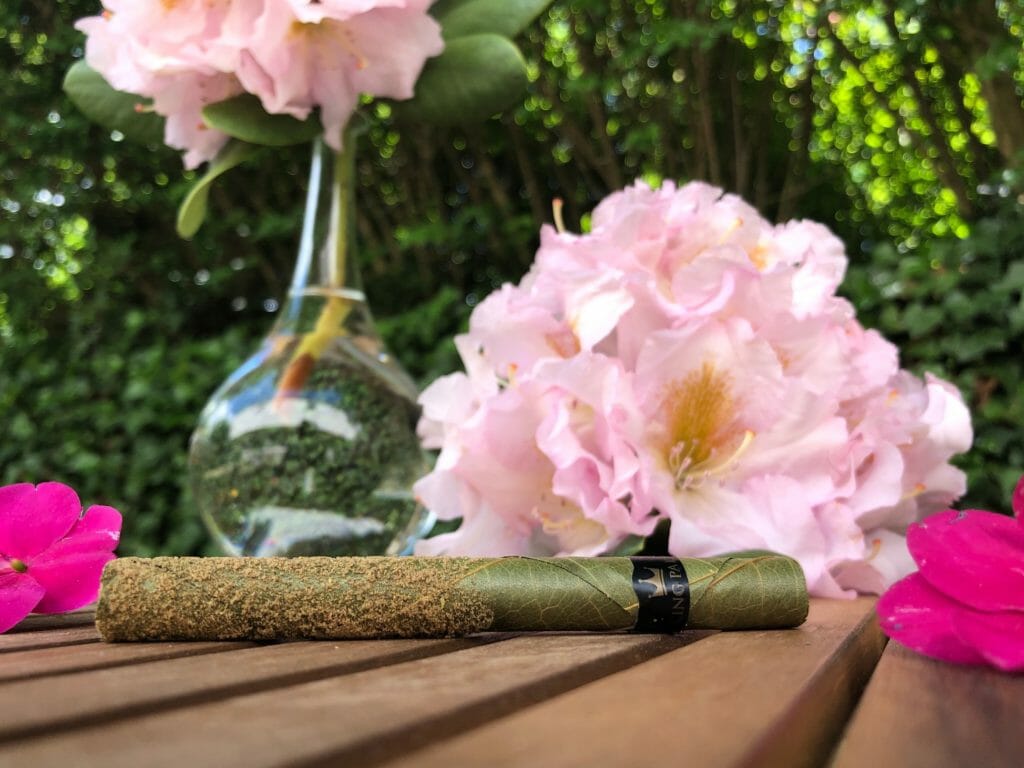 Using CBD to Quit Smoking
There are a variety of ways you can consume CBD. Some people prefer to ingest CBD tinctures orally. Others prefer the immediate effects of smoking CBD or vaping it. There are tons of CBD products on the market. They all come with their own set of benefits, but the effects are very individualized and vary from person to person.
Many soon-to-be-non-smokers are interested in replacing the oral fixation that accompanies the habit. For them, a CBD vaporizer or a CBD joint/blunt can be beneficial.
READ: Vaping vs Smoking
Conclusion
Quitting smoking is hard, but there's hope, and thankfully there are many high-quality CBD products to choose from. If you're desperate to quit smoking cigarettes, consider adding a little CBD to your routine and see if it helps.
For more click to continue on to https://www.marijuanamommy.com