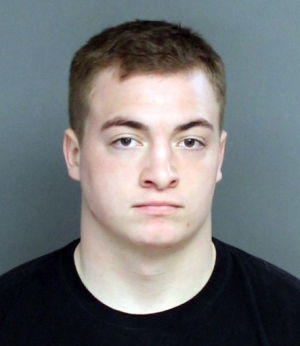 A 23-year-old Corvallis man was arraigned Friday in Benton County Circuit Court on 39 felony counts of identity theft and one misdemeanor theft charge after Corvallis police reportedly found a stolen street sign and 39 driver's licenses at his apartment.
Officers were dispatched to Douglas Thompson Von Euen's apartment on Monday for a domestic disturbance involving his ex-girlfriend, according to Capt. Dave Henslee of the Corvallis Police Department. While executing a search warrant on Thursday in connection to the woman's reported assault, officers found the driver's licenses and a Corvallis city street sign.
The licenses are in different names and from states all over the country, Henslee said. Detectives are investigating whether they are real forms of documentation, where they came from and if they've been used illegally.
"They're working right now to determine if they're real or forged or used in a fraudulent manner," Henslee said.
Von Euen pleaded not guilty to the charges and was released from jail Friday on his own recognizance.
Von Euen made the news last June when he and a friend were arrested in connection to an assault with a cane sword. Police alleged a good Samaritan came running outside with a sword to defend Von Euen's girlfriend while Von Euen was allegedly assaulting her. Police further allege that Von Euen wrested the sword from the man and seriously injured him with it.
The Benton County District Attorney's Office dismissed charges against Von Euen in anticipation of refiling charges if the grand jury indicts him.