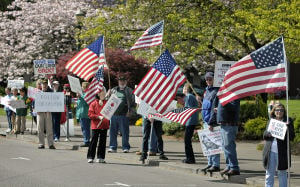 About 30 protesters waved American flags and held up signs with slogans like, "Abolish IRS," "Free enterprise," "De-federalize Oregon lands" at a tea party rally in front of the Benton County Courthouse on Saturday.
Though the president of Benton County Republican Women, Stella Guenther, staffed a table at the event to sign up new voters, the rally wasn't affiliated with any political party, organizer Carolyn Webb said.
"It's really nonpartisan," she said. "It's a tea party rally — tea party means that we're interested in limited government and less regulations, so anybody and everybody whose interested in those issues can be involved."
Because the tea party encompasses a set of values and is not an official political party, it's difficult to determine the number of locals who identify as a tea partier, Webb said.
The tea party favors tax reform, energy independence, lowering the state and national debt, a reduced federal government, and fewer regulations on business.
Webb purposefully planned the rally to loosely coincide with the IRS Tax filing deadline, which is Tuesday.
"It's tax day next week," she said. "I thought it was a good time for the people to think about all of the rules and regulations — what the federal government and state government is doing — because the people need to have a voice."