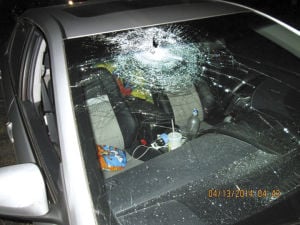 Oregon State Police is seeking help to identify whoever dropped a cinder block from an Interstate 5 overpass early Sunday morning that broke through a passing vehicle's windshield and injured a woman inside the car.
About 4:28 a.m. Sunday, a 2012 Toyota Camry driven by Michael Becker, 28, of Roy, Wash., was northbound on Interstate 5 in the right lane traveling under the East Oregon Avenue overpass in Creswell when a cinder block fell from the overpass and came through the windshield.
The block struck passenger Tiffany Becker, 30, in her face, causing non-life threatening injury, state police said. She was taken by ambulance to Sacred Heart Medical Center at RiverBend for treatment. She was treated and released. The driver was not injured.
OSP troopers are continuing the investigation. Troopers received information that four unidentified persons, two on bicycles and two on skateboards, were in the area around the time of the incident but don't know if they are connected with the investigation.
Anyone with information to help identify the four subjects or who saw suspicious activity in the vicinity of the overpass about 4:28 a.m. Sunday morning is asked to contact OSP Trooper Gerald Ellis at 541-726-2536 or GEllis@osp.state.or.us.