When Gary and I get away, we like places that are unique and beautiful, and places that make us feel like we are somewhere far away from home. Ideally we'd like to take a trip to Europe to visit Scotland and stay in a charming castle among green rolling hills; but since we can't do that right now, we feel so grateful that we have the Hummingbird Estate literally fifteen minutes from us in Central Point.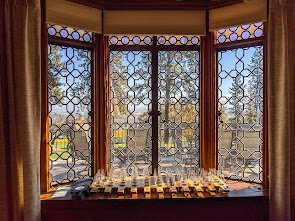 If you've never been to Hummingbird Estate, you need to change that. Not only do they serve stunning wines that seem to get better with every vintage, they offer overnight stays in their gorgeous, though modestly furnished suites. Each one is decorated with its own character; with views of the grounds and vineyards keeping much of its original charm.
Each time we stay we are delighted by the utilization of the old and new in each room with built-in bookcases, hand painted tile work, and the sweet little sitting rooms that accompany each sleeping area.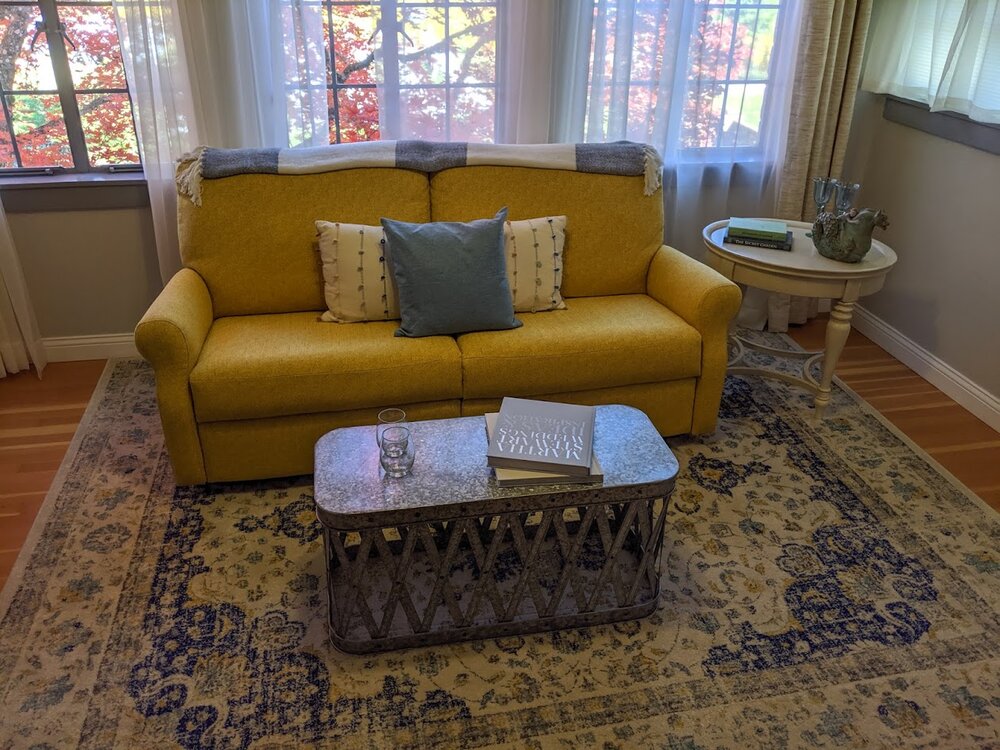 Our very favorite suite is the Japanese Maple. As we walked into the light and bright room, we saw our king size bed topped with a cloudlike mattress topper and the perfect pop out alcove for reading. There's a gorgeous fireplace, rhat is no longer used, but is decorated with tiles that the original owners found on their world travels. From there we stepped down into a large bathroom boasting the original black porcelain sink with gold hardware, which Gary and I loved by the way! When we walked through the bathroom, there was another doorway that took us to the airy reading room decorated in yellow and blue. This is probably my favorite room in the whole house. It's so bright and happy with views of the Japanese Maple outside its windows and looks down into a whimsical brick patio area. Gary and I actually spent part of our morning reading, sipping coffee, and listening to music in the reading room. It was heavenly.
On our latest visit we stayed in the Sequoia Suite and it is was as beautiful as expected. The sleeping area has a king bed with a bench area for seating as well as a cozy chair next to the window with views of the lawn and gardens from the front door. From the bedroom we walked into the sitting room with a gorgeous nook to gaze out on the grounds facing the Rogue Valley with views of Mt. Mcloughlin. The bathroom is large with a shower and water closet. It has been newly remodeled, and though it doesn't keep with the original décor it is nicely decorated of course.
I should have led with the breakfast that Hummingbird serves. It is fantastic! Kristina and her assistants cook up the most amazing breakfasts including oatmeal bakes, huevos rancheros, homemade pastries, and other delectable items. We feel so spoiled when we stay because the food is delicious and just as beautiful as the estate itself.
If you want to stay, they are open year round (except for maybe some choice holidays) and winter is our favorite time to stay! They have the fire pits going and if there is rain they have a large awning. We grab our blankets and winter coats, and snuggle up with a glass of their warm seasonal Glühwein. And if you just want to visit the estate, they are open Wednesday-Sunday with evenings dedicated to dinner and wine pairings, live music, and more depending on the day! Hummingbird Estate is truly one of our favorite southern Oregon wineries.
Become a member of Hummingbird Estate wine club, book your room, and get more details about the estate here!