UPDATED Monday, October 18th, 2021
After driving up and down I-5 for what felt like years Wolf Creek Inn is finally open and it was well worth the wait. You can't be anything but enchanted as you drive into the parking area of this sweet, colonial inn. Olivia exclaimed, "it is so little" as we drove up and she jumped out eagerly to run to the door to get inside to explore.
When we entered we felt like we were stepping back in time and I wish that I had donned my best hat. We headed for the check-in desk, which happened to also be the men's tap room; a spot for men to gather and enjoy a quaff of beer while they shared stories of their travels along the Applegate Trail. We were greeted by the friendly desk host Jamie who then took us on a quick tour of the Clark Gable room that still holds the furniture that he and his wife used. We then walked through the common area, and then to our room. Mind you, it was quite small as I would expect from rooms in a boutique hotel, but as we looked at it as a place to only sleep, we could still fit two rollaway beds for our kids in addition to the cozy, queen bed. After we settled in, we explored the second floor, finding a mini-museum of sorts. We got to see Jack London's room where he wrote his short story "The End of the Story", a display about the ghost town of Golden, and a room full of photos and displays of the history of Wolf Creek.
We then headed downstairs to wait for the Tavern to open and to wait in the cozy ladies parlor where they had a fire burning, and a lot of sweet and dainty things to look at including a framed piece of curiosity art made completely of human hair. Dinner was homey and delicious with comfort food choices like Fried Green Tomatoes, Chicken Fried Steak, and Hamburgers. It was reasonably priced and the perfect amount of food so that you can save room for whatever seasonal fruit cobbler they have topped with their own homemade ice cream. We just happened to get to enjoy apple cobbler made with apples from their very own trees that were over 100 years old. See their menu HERE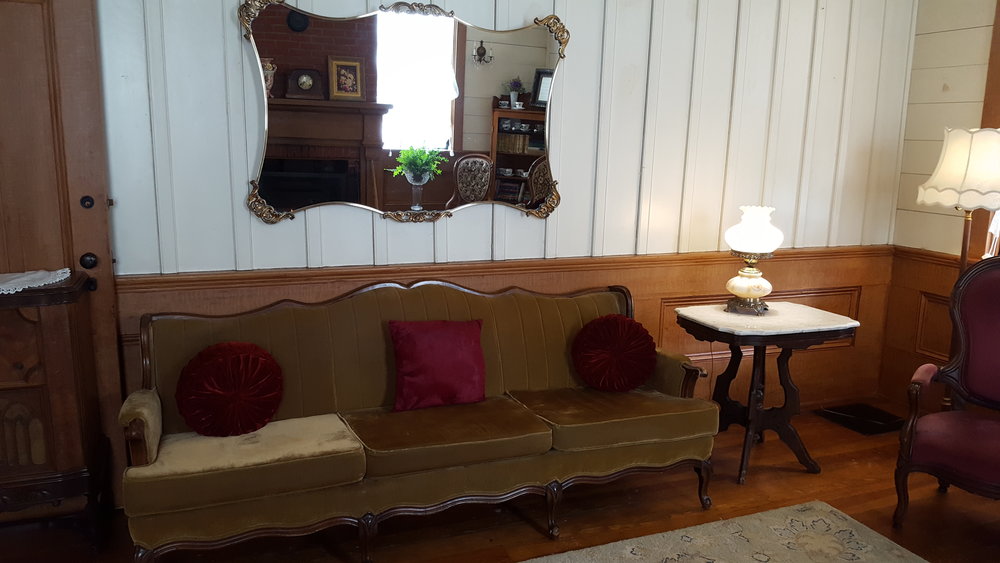 After dinner we took a nice refreshing walk to the park less than a mile up the road where there were trees that were hundreds of years old. It was good to let the kids get some energy out before we headed upstairs to play games in the common room. We had a TV-less evening of puzzle building, Yahtzee, and mahjong playing, and Ilias even started teaching himself to play chess with a book they had and a beautiful set they had setup that beckoned him to play. It really felt nice to slow down without all of the modern conveniences and I could see why Jack London was inspired to write there as the quiet of the Inn and natural calm lent itself to be a place of reflection and inspiration.
In the morning we got up around 8 and enjoyed a cup o' joe from their coffee bar setup in the common room and then headed outside to let the kids enjoy the early morning air and expend some of their pent-up energy. Gary and I followed the small interpretive trail that was directly in front of the Wolf Creek Inn and then took a walk around the sleepy little town while it slowly woke up.
While dinner was good, breakfast was great! We all agreed that we would drive a distance for chef's amazing gravy that was used on the biscuits and gravy, and the house-made sausage made by none other than our innkeeper Andrew; it was spicy and delicious. After breakfast we had some time to chat with Andrew, learning that they will be locally sourcing their food as much as possible including their meat and produce, and that their chef would be house pickling items to add to their menus full of scrumptious, comfort food. He also had set up a time for us to meet with their ranger who would be giving us a tour of the inn.
The whole Inn is full of fantastic, rich history that we were privileged enough to learn from the Oregon State Park Ranger, Tony Silva. Since the original floors plank the whole inn you can see stories from yesteryear such as spur marks in the tap room, and the cleanliness of the ladies parlor, with fine rugs blanketing the floor. Other notable history of the building that we enjoyed is a table that could possibly have been there since the beginning of the inn with a checkerboard on top, as well as a player piano to inspire the feeling of gaiety that resounded at finally getting to rest after a long days trip, and the grand ballroom that once hosted parties for travelers near and far. The rangers know their stuff, so if you have time you should attend one of their tours on Saturdays and Sundays.
We had such a great time, Ilias and Olivia keep asking to go back. Whether you are visiting from out of town, traveling I-5, or a local looking for a quick weekend trip; Wolf Creek Inn is a great spot to getaway from it all. We definitely will be going back for some of that amazing gravy!
If you want to go the Wolf Creek Inn it is located right along I-5 north of Grants Pass at 100 Front St in Wolf Creek, Oregon. You can't miss it as you come off the freeway. To add to your experience we've added some points of interest you can visit below.
BONUS STORY My visit from a ghost?
We had heard that the Wolf Creek Inn was haunted but didn't want to feed into the fables so hadn't looked into its history before visiting. While I was sleeping I felt someone touching my feet and opened my eye to see a figure of sorts standing at the end of our bed. I got a little freaked out and laid there for a time until my mind stop racing and I eventually fell asleep. In the morning I chalked it up to a dream. When I told Gary we decided to look up which rooms were haunted at Wolf Creek Inn and it just so happened that our room was one that a woman had been seen in before. Was it ghost I'm not sure, but I definitely felt a presence while there.
---
Golden State Heritage Site
As if hanging at the hotel isn't enough, there are a lot of cool things to do around the area. As we mentioned the ghost town of Golden is not even 15 minutes away. It is an old mining camp that was built in 1884 eventually becoming a town known for having two churches and no saloon in the 1890's. Our 5-year-old Olivia was spooked by the deserted town, especially the church; refusing to walk up the stairs until Gary and I went up with her. I've got to be honest, I did get the heebie jeebies when I walked into the church with my imagination going crazy, hearing the whispered prayers of its past members. There is also an old barn and the general store to checkout; it's definitely worth a visit. MAP
---
London Peak
London Peak is just a 15 minute drive from the Inn. You take a winding road up to the trailhead where you will get a view of Wolf Creek Valley. We were overcome with the beautiful wild daisies and old growth trees growing all along the road up. We unfortunately didn't get to hike the trail because there was a downpour.
The trek is only 2.5 miles roundtrip with some incline, with an amazing view, we've heard. All the more reason to go back and stay at the Inn. MAP
---
Applegate Trail Interpretive Center Museum
Just 15 minutes south on 1-5 in Sunny Valley you can visit this neat museum that offers a glimpse into the history and stories of the pioneer settlers and the impact the stage line and building of the railroad on the trail. We caught it on a day that they were closed so only got a few photos of the outside, but will make sure to visit sometime soon.
Hours are: Thursday-Sunday, 10:30am-4:30pm the end of May through September. MAP
---
Grave Creek Bridge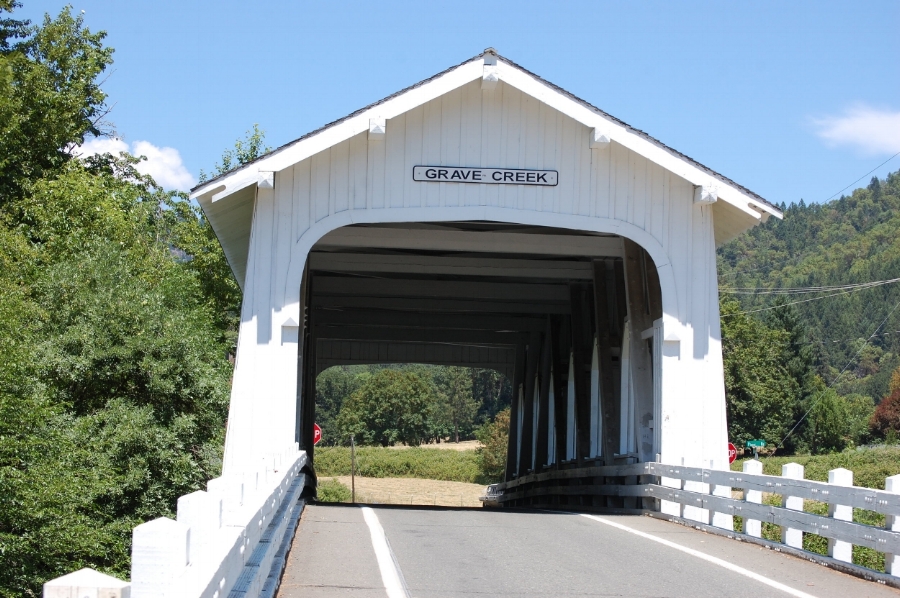 It is the only covered bridge remaining in Josephine County, named for a 16-year-old girl that was buried 150 feet north of the creek on the east side of a white oak tree that was later removed for the present road way. We are a little obsessed with covered bridges, probably because of the many lives that traveled those bridges and their untold stories. MAP
---
Pottsville Oregon Historical Museum
Visit a pioneer town with outdoor exhibits daily from 10am-6pm. If you want to visit the museum call to make an appointment at 541-476-7319 or stop in when they host their annual events such as the Antique Tractor Show & Pull on Father's Day Weekend, the Pottsville Pow Wow, or Rat-O-Rama Car Show. For more information about the town and their events go HERE. MAP