Found right in downtown Redmond, Oregon is the very cool and unique SCP Hotel. When we partnered with Visit Central Oregon they arranged with SCP Hotel for us to stay there and we were so excited because we had previously enjoyed a dinner at their rooftop restaurant and we were charmed by the eclectic and relaxing decor that oozes the outdoor life.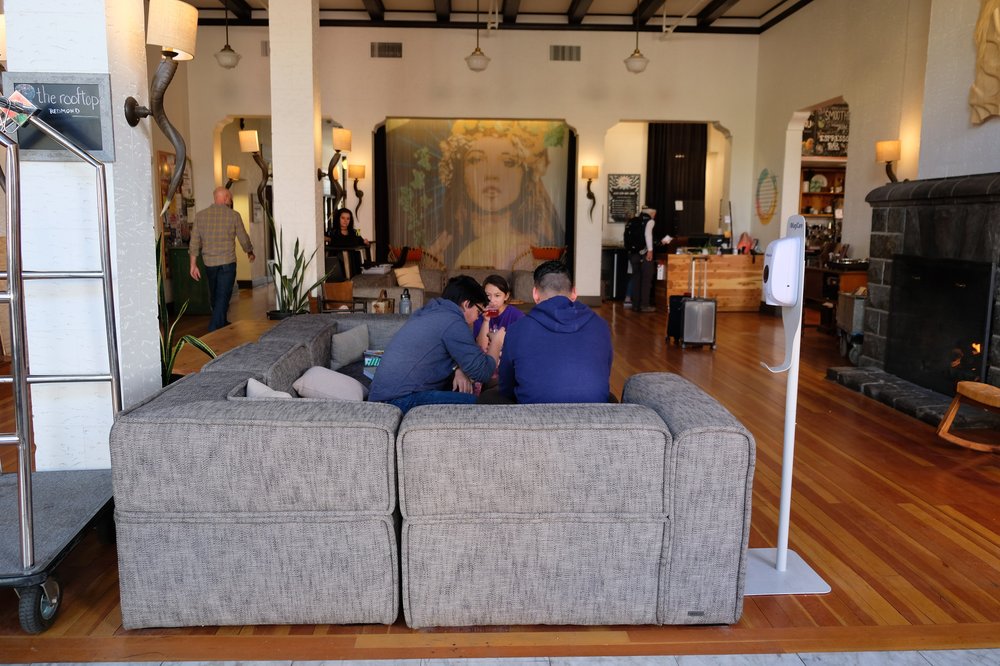 When you walk in there is a cozy fireplace seating area where you can read a book from their private library and game room, and sip a complimentary local beer or kombucha. There's also a meditation room, small gym, shared coworking space, and Provisions Market where you can enjoy breakfast, coffee, smoothies, and to-go snacks.
The manager happened to be there to greet us and fill us in on their mission as a company and the meaning of SCP. S=Soul, C=Community, P=Planet. Each of the 49 rooms are of minimal decor, utilizing locally sourced materials with offerings of Standard rooms, Suites, and what we stayed in, Peaceful rooms. The peaceful rooms have no televisions and are filled with extra touches like Himalayan salt lamps, books about mindfulness, and even sound machines to help one sleep better.
After our check-in we took advantage of the no tech and played games with our kids downstairs while sipping our beers and kombuchas. Then we headed out to explore Redmond. SCP is centrally located so we could explore the area pretty conveniently. There are lots of shops and restaurants right downtown and SCP actually has three of their own restaurants.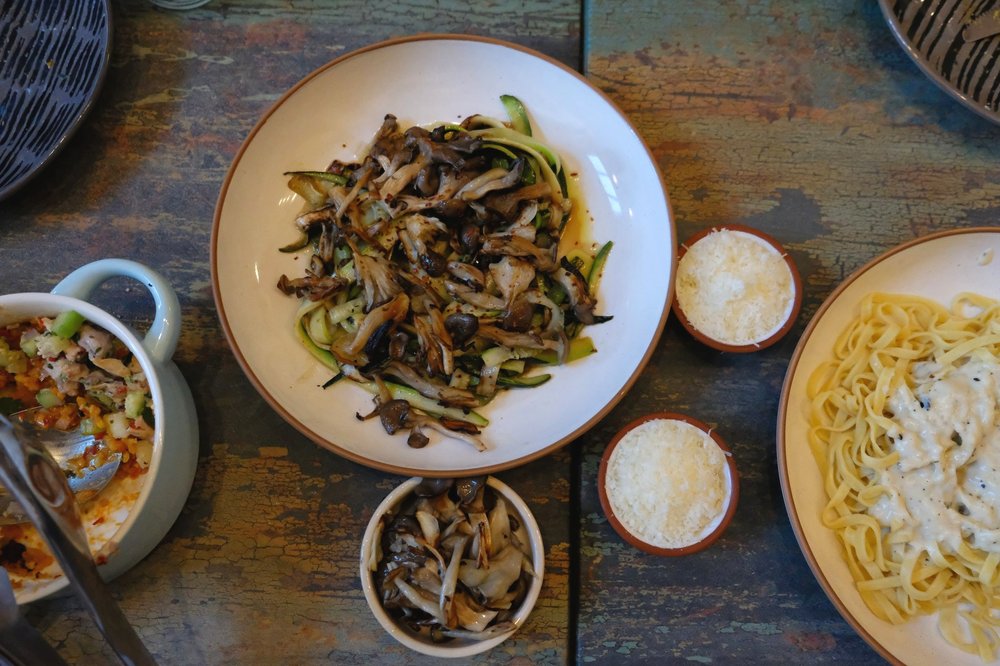 For dinner we were able to enjoy their newest addition Terra Kitchen, which offers a field-to-table experience, heavily leaning toward plant-forward dishes and on occasion consciously raised meat, poultry, and seafood on special. We went completely family style and enjoyed several items on their menu. They do offer zoodles if you are gluten free and they are absolutely delicious! To drink they have handcrafted cocktails and mocktails that our kids totally enjoyed.
After dinner we headed up to The Rooftop to eat dessert, sip cocktails, and watch the magnificent view of the sunset. Their cocktail menu is really fun because while you can choose from the usual cocktails, they also offer a 'My' Cocktail Menu where you can build your own cocktail or mocktail and flavor it with house made flavors that are locally sourced from the Pacific Northwest; another thing that our kids loved. Their dinners are also fantastic and Gary and I highly recommend their desserts. Scratch made, and locally sourced berries are in our favorite Oregon Mixed Berry Cobbler. So good, you will not regret ordering it!
To finish off the evening we took the kids to their room and then Gary and I went down to SCP's cocktail bar the Wayfarer Club. It's a small space serving bar bites and handcrafted cocktails. I love the warm lounge feel with rowing themed decor. It's a very cool spot that we will frequent anytime we are in Redmond.
We really enjoyed our stay at the SCP while visiting Central Oregon, and appreciated the fact that just for us staying there we could feel good because they give back to our earthly community. So now to dig more into the meaning of SCP. S = Soul, and as a company they give back to help "build life-long mental health skills through WE Well-being. So far they have supported more than 70,000 adolescents!
C = Community, for each stay we "light the home of one family caring for a critically ill child for 24-hours" through Miracles for Kids.
P = Planet, for every stay SCP plants one tree in an unnaturally deforested area through One Tree Planted, and cleans up 2.2 pounds of trash from local beaches in Hawaii through Hawai'i Wildlife Fund.
We really enjoyed our stay with SCP and appreciated the fact that, as a company, they really make the effort to create a community that embraces sustainability. We really could feel good because they give back to our earthly community just for us staying there. As a family we believe in sustainable and eco-friendly practices at home and now we have found a hotel brand that aligns with our values. We will definitely look to stay at SCP Redmond while staying in Central Oregon and other SCP properties in our future family travels!