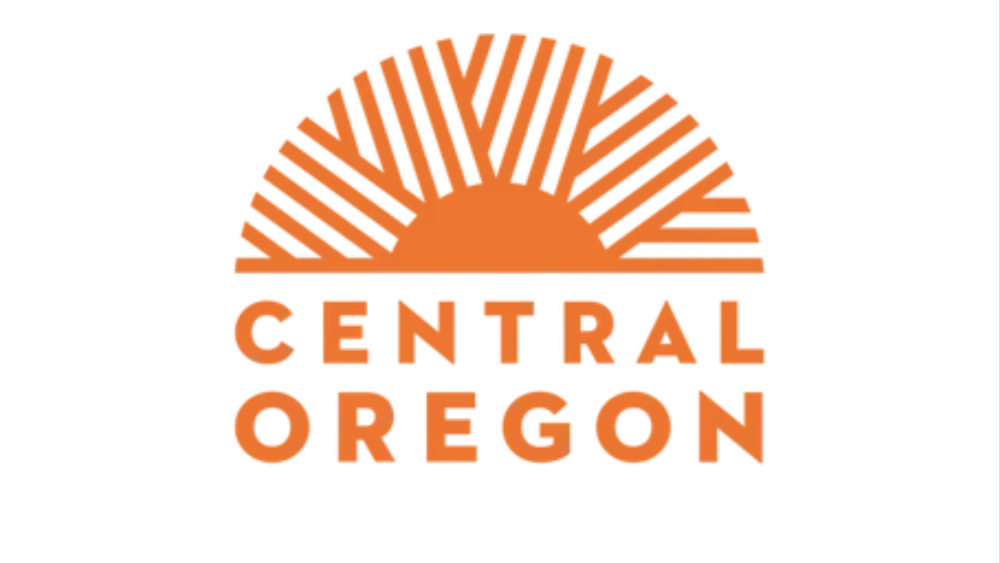 Since the early 90s we have been visiting my grandparents in Redmond. It was a quaint town outside of Bend that had just a couple of restaurants and a couple of grocery stores for shopping. We visited nearby Smith Rock and Tumalo State Park and were so excited when they built the shopping center right between Bend and Redmond because it gave us more options to shop and eat. We always loved visiting because the community of Redmond really knows how to slow down and we take in the relaxed vibe that pervades the whole area.
It has been a few years since my grandparents moved away, but we still love visiting, and now we get to really dig in to enjoy what the area has to offer. It has grown so much, especially in the last five to ten years and we are so happy to share what has become a favorite spot for our family vacations and getaways as a couple.
DAY ONE
From the Rogue Valley, Redmond is only three and a half hours away, making for a perfect weekend getaway! We left Medford at 10 a.m. taking our time, enjoying the views along highway 62. Our stomachs started grumbling around two hours into our trip so we decided to stop for lunch at Sunriver Pub at the Sunriver Resort. It's a great family friendly spot with good beer and a locally sourced menu full of delicious burgers, salads, and specialties. It's the perfect stop on the way into Bend if you want to avoid more crowded establishments during the day.
We got into Downtown Redmond just in time to check into our hotel, the SCP Redmond. We were really excited to stay in this hotel because Gary and I had been to their Rooftop restaurant for dinner a couple of years back and were impressed with their overall vibe.
SCP (Soul Community Planet) is a chain of hotels and resorts that has a goal of sustainability, locally sourcing food for their restaurant, and donating to local and environmentally friendly non-profits. For every stay, they donate a tree to One Tree Planted and they donate to get 2.2 pounds of trash per stay removed from local beaches in Hawaii through Hawai'i Wildlife Fund. See more about our stay with SCP, in its feature story here.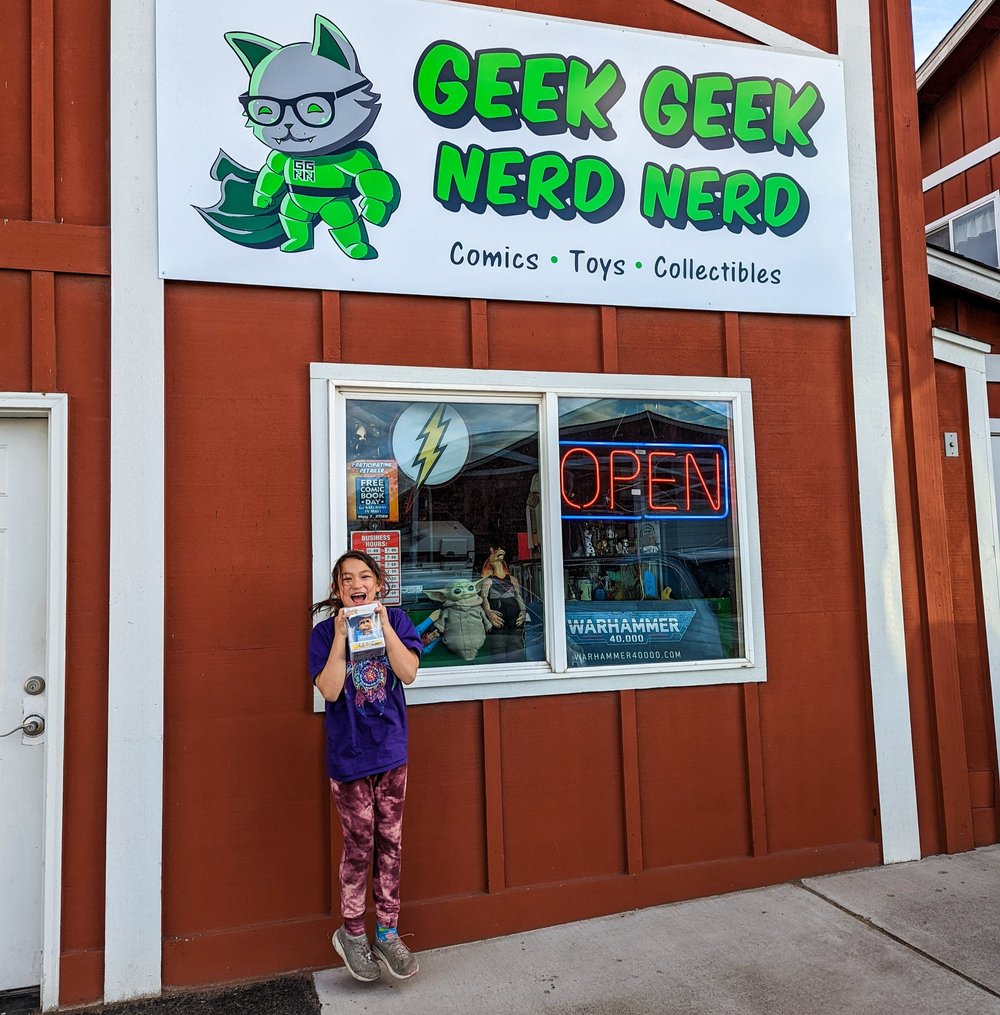 After we got checked in and washed up we headed out to our favorite shop in Redmond, Geek Geek Nerd Nerd, a comic book store full of not only comic books, but Funko Pops and various collectibles. It's located in the Redmond Antique Mall where there are two other large vintage shops to explore.
We built up our appetite and then headed over for dinner to the very popular Grace and Hammer located in a church that was built in 1912 and declared a historic site in 1976. They seasonal and local ingredients to create their wood-fired pizzas and handcrafted cocktails in a relaxing atmosphere. On a Friday night be prepared for a long wait for your pizza (up to 45 minutes sometimes) so order one of their appetizers to tide you over. Everything is delicious and they also have a great selection of desserts!
DAY TWO
BREAKFAST IN REDMOND
We took our time rolling out of bed and then headed out for breakfast at One Street Down Café, which was only three minutes from our hotel. We could have walked, but since we were heading out for the day from there we drove. Since we got there at 9:30 a.m. we had about a 30 minute wait since they have limited indoor seating. Their menu was full of skillets, avocado toast, and pancakes and they also serve lunch.
KID-FRIENDLY OUTDOOR ADVENTURES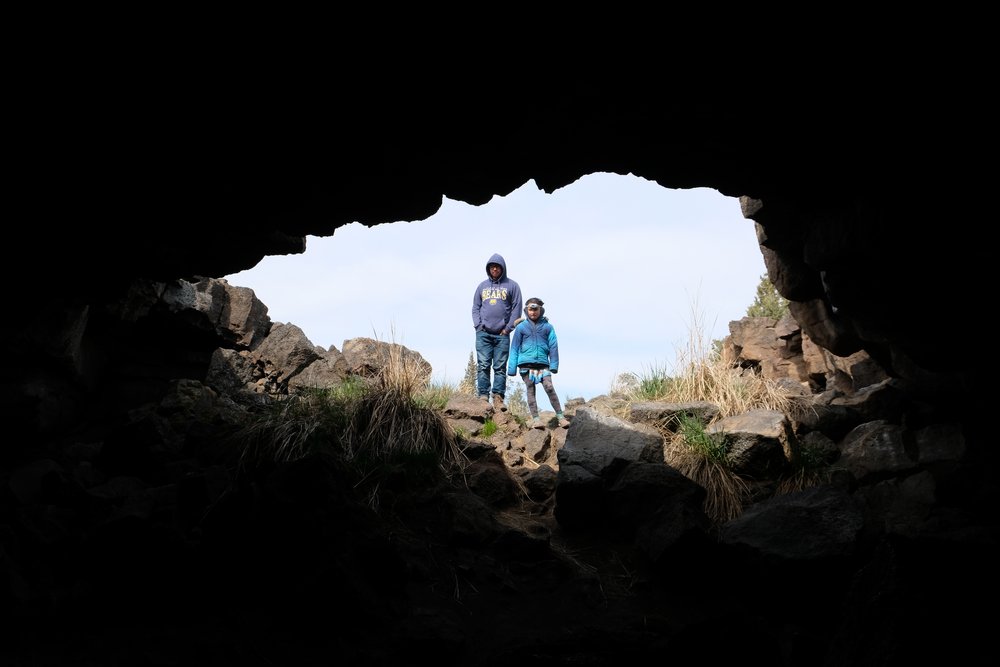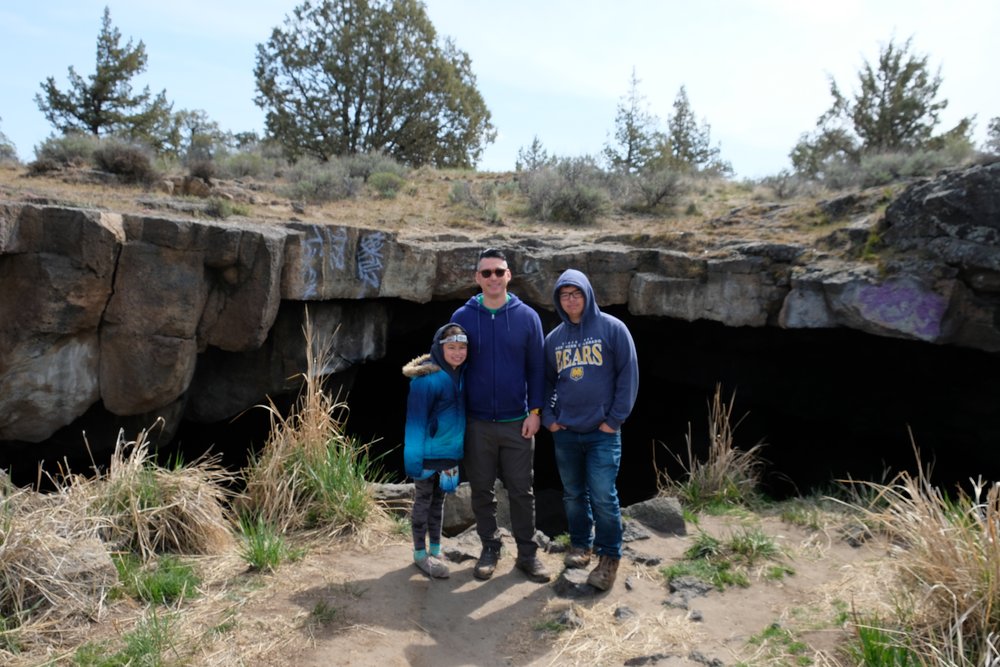 With our bellies full we headed to our first outdoor adventure of the day Redmond Caves. This is such a fun pitstop because it is literally minutes from downtown Redmond. Even Though we had been here before, we had a great time because we remembered to bring our headlamps and flashlights and were able to explore more than we did last time. There are five tunnels that you get to go into, some even connect to one another. I go into more details in our story here.
After spelunking the Redmond Caves we went to the Peterson Rock Gardens and Museum on the way to Sisters. Peterson Rock Garden and Museum is one of those places you've really got to see to believe. Take a tour of castles, sculptures, bridges, and more built out of rocks, glass, shells, agates, and other natural objects. We strolled the property while enjoying the company of probably thirty resident peacocks! It took us about thirty minutes to tour the property, which was a perfect amount of time to build up an appetite for lunch.
LUNCH AND SHOPPING IN SISTERS
After Peterson Rock Gardens we drove into one of our favorite little towns in Central Oregon, Sisters. We've been visiting for years and to see it really grow into what it has become has been wonderful. There are so many cute little shops, and restaurants and they have a great park if the kids need to take a break!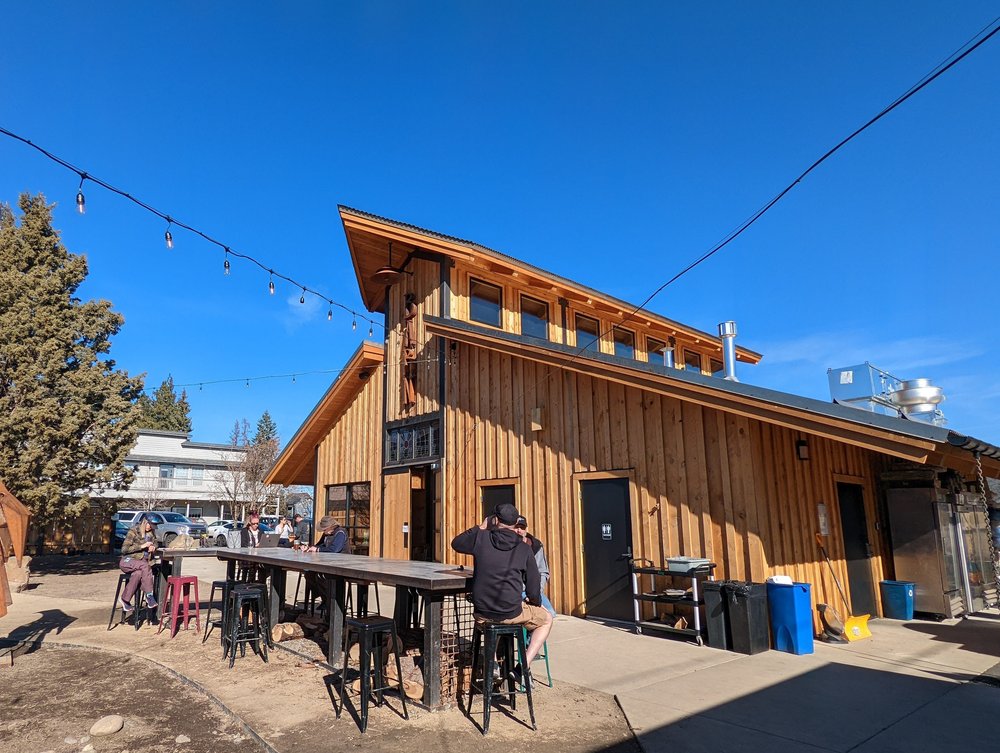 Lunch was at The Barn in Sisters, an ultra hip spot that houses four food trucks in addition to their barn space where they serve up house made cocktails and small bites. There is lots of seating and a stage for live music. During the day it is buzzing with the community and tourists, chatting and enjoying all of the great options. It doesn't matter which truck you order from there is something for every palate.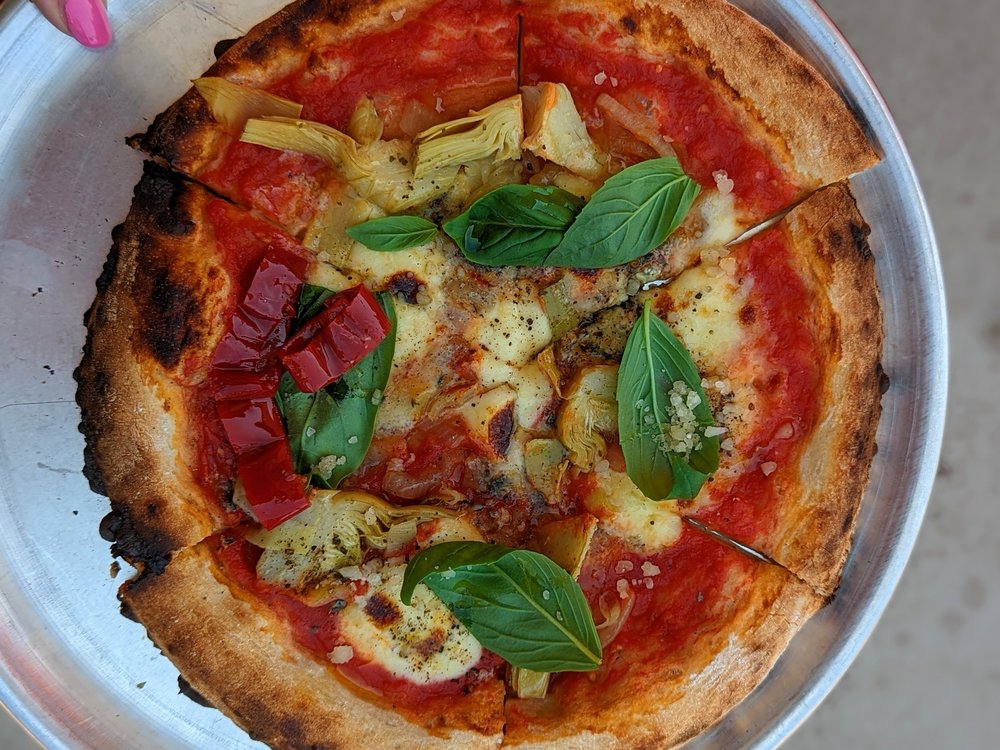 Boone Dog Pizza offers wood fired pizza, whose ingredients are locally and ethically sourced. We had the Sausage and Pepper Pizza and it was fantastic with a great spice to it.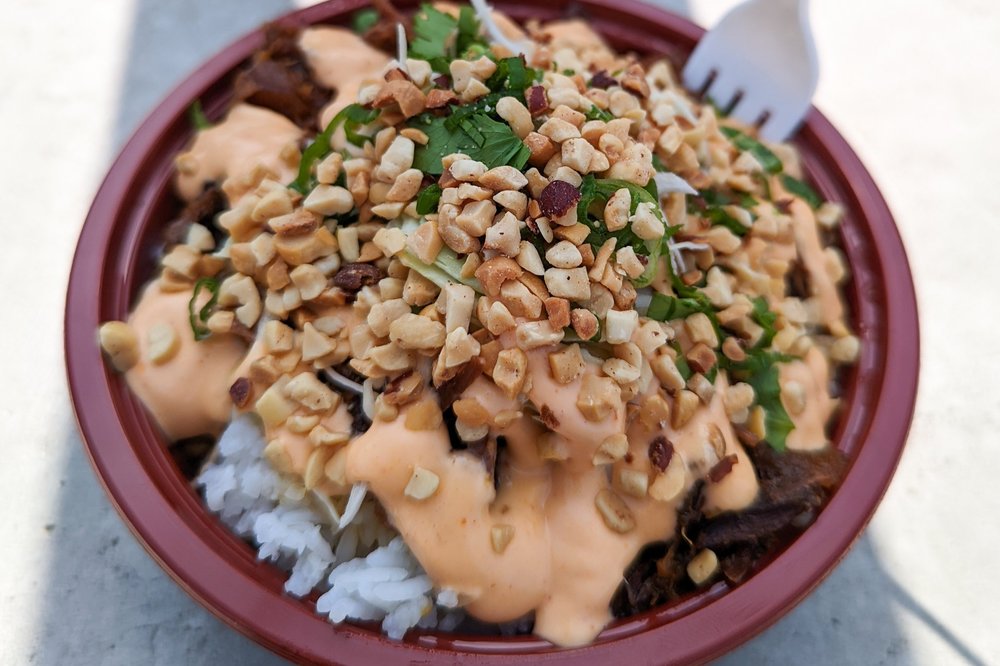 Wrap Star offers a variety of cuisines wrapped in a tortilla or you can get them on a bed of rice. We went for the popular Korean BBQ Beef on a bed of rice and it was tasty! Next time I will try the Lemongrass Pork because I'm a sucker for anything made with Lemongrass!
Chulitas is a classic Mexican food truck and while the food is good we can't get over their scratch made Horchata. If you get the nachos, make sure that you share because they are humongous.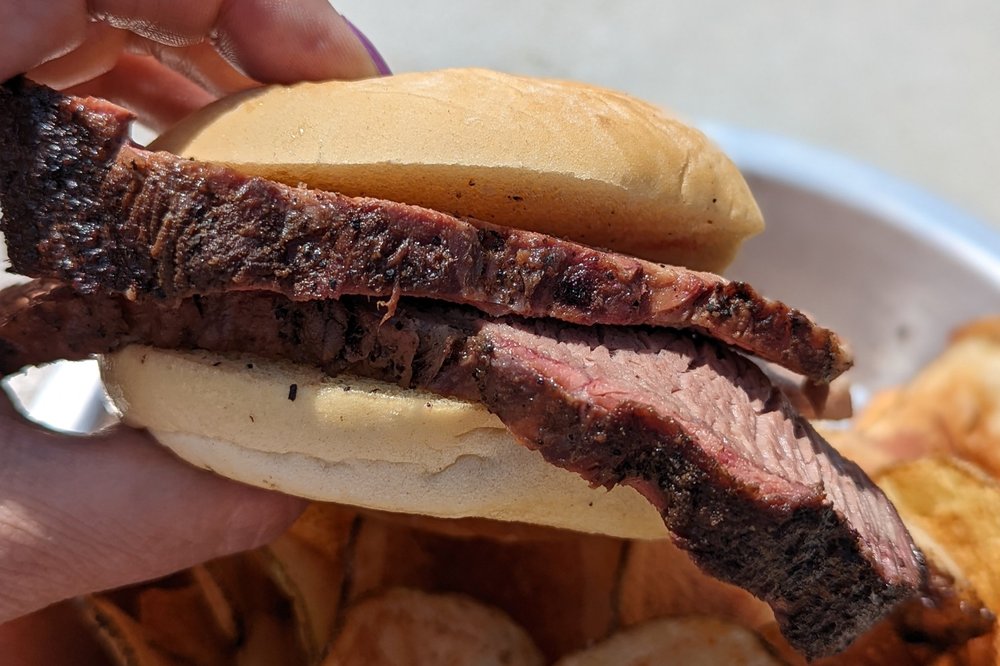 The last food truck is POPS Southern BBQ where they serve Texas BBQ. The Brisket Sandwich was PILED with meat and served with homemade potato chips. It too was very good!
After we ate we took a stroll around the cute little old west town and looked around. Some of our favorite shops include Garden of Eden Gifts, Hen's Tooth, The Paper Place, and of course the ever nostalgic Candy Corral. We stopped into Sisters Coffee for an affogato and if we hadn't just eaten lunch would have gone into Sisters Bakery. They have THE BEST cinnamon rolls and muffins!
HIKING AT CLINE FALLS
By then we were getting close to dinner but we really needed to work off some of those calories we had taken in so we stopped at Cline Falls State Scenic Viewpoint. There's a nice size park and we found the perfect swimming hole for next time we visit right there at the park. We decided to hike the ½ mile to the falls but found that we had to leave the parking area and park on the side of the road in order to not have to walk on the road. The trailhead is about ½ way between the entrance and the parking area. You will see a sign on the right that takes you down and along the Deschutes River. You will take the trail under the McKenzie Highway overpass. As you come up from under the overpass you follow the dirt trail over a forest service road. Just stay to the left and you will see where you can view Cline Falls. There are lots of places to view the falls. Just follow along the canyon and find your special spot. If you would like to get a different perspective and a closer look see my blog all about Cline Falls here.
DINNER AT SCP
After a full day of adventuring, shopping, and eating we were pretty exhausted, and went back to our hotel to prepare for dinner. We couldn't have been happier that we were having dinner at SCP's own Terra Kitchen that was literally right next door. The food was magnificent with a vegetarian focused menu and handcrafted cocktails that were light and refreshing after a day of heavier fare. They even had non-alcoholic shrubs that the kids really enjoyed.
After our dinner we went up to The Rooftop to enjoy the sunset and a cocktail for Gary, and mocktails for the kids and I. It's truly a fabulous view of the Three Sisters, Mount Bachelor, and Black Butte. To finish off our evening Gary and I took the kids back to their room and went to finish the night at SCP's cocktail bar, Wayfarer Club. A perfect ending to an awesome Central Oregon day!
DAY THREE
BREAKFAST AT HALO DONUTS
For breakfast we decided to forgo a large breakfast and opted for donuts as Halo Donuts just steps away from the SCP. They are home made and have fun choices like raspberry filled cream cheese, Heath toffee, and Reese's Pieces bars! We munched our donuts down and then headed right across the street to take our picture with the Greetings From Redmond mural and then headed back to the hotel to check out. With the rest of the day ahead of us we decided on one more Central Oregon stop for us, Smith Rock.
HIKING SMITH ROCK
Smith Rock is one of our "places". No matter how many times we go, we are overcome with its beauty, its healing energy, its grounding. Even if our kids don't want to go they give in and can't help, but enjoy themselves. We didn't hike Misery Ridge this time because we left our water packs at home so we just did a mile out and back on Wolf Tree Trail. While I could have enjoyed the whole day there. It was enough to refresh our souls.
As we left Redmond we talked about our favorite meals we had, the new things we learned about the old places we've visited, and about all of the things that we want to do next time. Redmond and the whole of Central Oregon really holds a special place in our heart. It's one of our places to really reconnect as a family and rejuvenate in its naturally slower pace of life. We definitely will be back, and can't wait to continue our Central Oregon adventures!
See more about Central Oregon and start planning your next adventures here.
See a shortened version to take along with you here.